Read Books
&

Articles About Chronic Pain
Psychophysiologic Disorders Association Website
Many years of clinical experience and considerable recent research has shown that stress, trauma and repressed emotions are capable of causing persistent real pain and other physical symptoms. This is what we call a Psychophysiologic Disorder (aka PPD or MindBody Disorder). Unfortunately, there is no conclusive diagnostic test for this condition so the single most common question patients have is whether their personal symptoms could be caused by PPD. This page is designed to help you with this question.
The Mindbody Prescription: Healing the Body, Healing the Pain
Dr. John E. Sarno's Healing Back Pain is a New York Times bestseller that has helped over 500,000 readers. Continuing the research since his ground-breaking book, the renowned physician now presents his most complete work yet on the vital connection between mental and bodily health.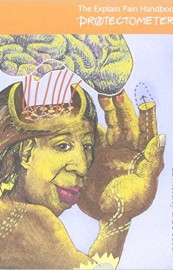 The Explain Pain Handbook Protectometer (8315)
The Explain Pain Handbook: Protectometer is a new collaboration between Professor Lorimer Moseley and Dr. David Butler. Based on the most up-to-date research and the Explain Pain book, it allows patients experiencing pain to explore their unique pain story.
Explain Pain Kindle Edition
All pain is real. And for many people it is a debilitating part of everyday life. It is now known that understanding more about why things hurt can actually help people to overcome their pain.
Healing Back Pain: The Mind-Body Prescription- Dr. John Sarno
Dr. John E. Sarno is a medical pioneer whose program has helped thousands of thousands of people overcome their back conditions–without or drugs or dangerous surgery.
Think Away Your Pain: Your Brain is Your Solution to Your Pain- Dr. David Schechter
Think Away Your Pain presents a revolutionary approach to relieve suffering and eliminate chronic pain. In this user-friendly clearly written book, you will learn how chronic pain becomes a condition of the brain as much as the body.
Unlearn Your Pain- Dr. Howard Schubine
Reversing chronic pain is possible when you understand its underlying cause. Using cutting-edge scientific information, this book explains that most chronic pain is due to learned nerve pathways that can be unlearned by reprogramming the brain.
Chronic Pain: Your Key to Recovery- Georgie Oldfield
Can you really cure chronic pain without drugs, surgery or therapy? Surprisingly often the answer is Yes.
Effortless Pain Relief: A Guide to Self-Healing from Chronic Pain
Contrary to popular belief, the most frequent causes of neuromuscular, joint, or skeletal pain can be traced to your lifestyle.
Life After Pain: 6 Keys to Break Free of Chronic Pain and Get Your Life Back
With so many pain treatments available – why is it millions of people still struggle with chronic pain?
Pathways to Pain Relief
Based upon the pioneering work of John E. Sarno, MD, Pathways to Pain Relief offers the stories of seventeen patients who recovered from back pain, sciatica, and other pain disorders which were emotional in origin.